Highlighted Outreach Events
Los Angeles County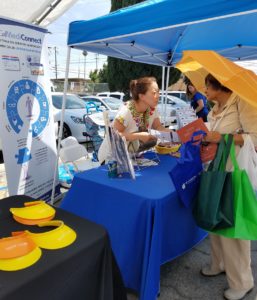 7/8 – Seniors, caregivers and other stakeholders attended a Cal MediConnect Informational Forum and Health Fair at Centro Medico de Huntington Park in Huntington Park. The event was provided in English and Spanish by state outreach staff.. The event featured free health screenings and information from collaborative partners, including Care1st, CareMore, Health Net, L.A. Care, AltaMed, Los Angeles Alzheimer's Association, Neighborhood Legal Services, Department of Public and Social Services, Personal Assistance Services Council, Human Services Association, and ten other community-based organizations.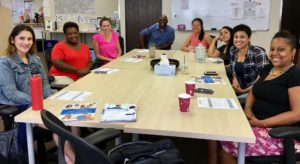 7/19 – State outreach staff presented to Regional Center of Pomona social workers and case managers. Attendees learned about Cal MediConnect, care coordination, and how the program helps the clients they serve.
Orange County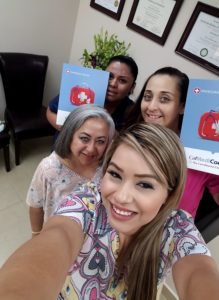 7/5 – Administrative and billing staff from Dr. Amir Lebaschi's office took part in a OneCare Connect training in Santa Ana. The training covered health plan options, the enrollment process, authorizations, and information about care coordination, authorized representatives, and continuity of care. Following the presentation, outreach staff answered questions and provided copies of the Beneficiary and Physician Toolkits.
Riverside and San Bernardino Counties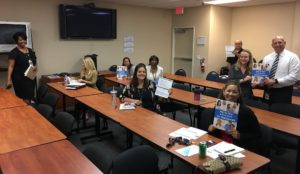 7/19 – State outreach staff presented to nurses, clinicians, social workers, policy professionals, and commissioners of the San Bernardino County Commissioners. Attendees learned about the basics of the CCI, had an opportunity to ask questions, and received educational materials to use to support those they serve.
San Diego County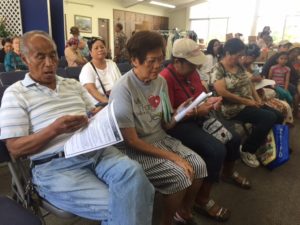 7/18 – Presentations in English and Tagalog were delivered to providers, caregivers, beneficiaries, and church staff at the Paradise Valley Seventh Day Adventist Community Church.  The presentations focused on eligibility and health plan options and state outreach staff provided informational materials.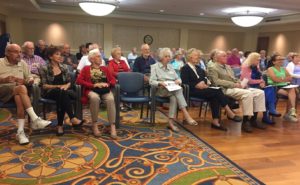 7/26 – Over 70 seniors, caregivers, and providers attended a CCI presentation at La Jolla Village Senior Residence in San Diego, sponsored in collaboration with AARP. The presentation covered the value of coordinated care, the program's additional benefits, and the enrollment process.
Other Recent Outreach Events
Los Angeles County
7/12 – Presentation to caregivers, behavioral health consumers, and health care advocates during the monthly support group of the National Alliance on Mental Illness (NAMI) in Pasadena
7/14 – Informational table for community-based organizations, government agencies, and other stakeholders at the South Bay Health Resources Partnership Health Fair in Torrance
7/15 – Outreach to health care professionals, community leaders, government officials, and other stakeholders attending the Korean American Health Conference in Los Angeles
7/25 – Presentation for advocates, promotoras, and beneficiary program administrators and managers from Community Health Councils in Los Angeles
7/28 – Informational table for beneficiaries and advocates and Homeless Care Days in Los Angeles
Orange County
7/6 – OneCare Connect presentation to social workers, discharge nurses, and resource information staff in Anaheim
Riverside and San Bernardino Counties
7/17 – Presentation to behavioral health consumers, caregivers, and program coordinators at Pacific Clinics Clubhouse in Rialto
San Diego County
7/5 – Presentation during the San Diego Senior Providers breakfast meeting in La Mesa
7/11 – CCI Forum hosted for residents, caregivers, and caseworkers from Silvercrest Residences in San Diego
Santa Clara County
7/12 – Presentation for stakeholders, beneficiaries, and members of the Senior Care Commission in Santa Clara
7/27 – Informational table for beneficiaries and caregivers at the Senior Walkabout in San Jose (English, Mandarin, Vietnamese)