Highlighted Outreach Events
Los Angeles County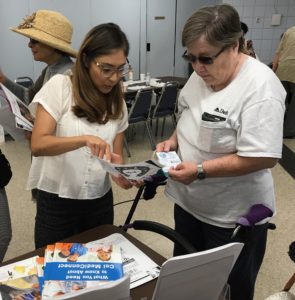 8/17 – An outreach coordinator staffed an informational table at Monterey Park Senior Center in Monterey Park. Beneficiaries who speak English, Spanish, and Mandarin Chinese received informational materials about the CCI and asked questions.
Orange County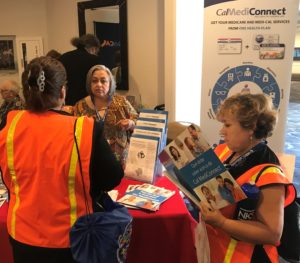 8/25 – Outreach coordinators were at the annual two-day NAMI California statewide conference in Newport Beach. This year's conference theme was Multicultural Symposium, Joining Forces. The coordinators staffed an informational table, which featured materials from all seven CCI counties. The conference attendees were clinicians, social workers, caregivers, behavioral health administrators, peer advocates, and behavioral health consumers.
San Bernardino County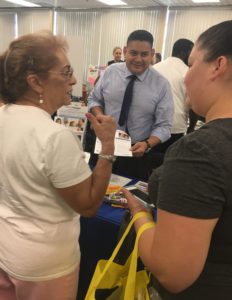 8/24 – Outreach coordinators shared CCI information with attendees of the Social Worker and Professional Resource Fair in Palm Springs, which was hosted by Riverside County Children's Services, Desert Hot Springs Family Resource Center. Coordinators shared information about resources available near Banning Pass, Coachella Valley, and throughout Riverside County, and distributed toolkits and other social worker-specific materials.
San Diego County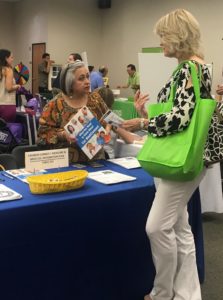 8/5 – Attendees of the Golden Future 50+ Senior Expo in Oceanside had the opportunity to take part in a presentation and discussion session about the CCI. Following the presentation, coordinators answered questions about enrollment, care coordination, continuity of care, billing, and collaborating with participating health plans. Participants also collected fliers and other materials.
Other Recent Outreach Events
Los Angeles County
8/8 – Presentation to seniors at Olive Plaza Senior Apartments in Burbank
8/9 – Presentation to advocates, doctors, administrative staff, and former patients at the Patient Advisory Council of Rancho Los Amigos National Rehabilitation Center in Downey
8/11 – Outreach to people experiencing homelessness in downtown Los Angeles.
8/15 – Presentation to seniors at Rosecrans Manor in Compton
8/17 – Informational table for seniors at South Gate Senior Center
8/28 – Informational table at Ascension Catholic School's Back-to-School Night in Compton
8/30 – Presentation for beneficiaries, caregivers, and advocates at Children and Women's Hospital in Long Beach
Orange County
8/19 – Informational table during the Back-to-School Family Health & Resource Fair at the Santa Ana Salvation Army in Santa Ana
Riverside and San Bernardino Counties
8/3 – Informational table at the Fontana Community Senior Center in Fontana
San Diego County
8/2 – Presentation for residents and health care providers of Chula Vista Silvercrest Residences
8/8 – Presentation in English and Tagalog at Paradise Valley Seventh Day Adventist Community Church
8/11 – Cal MediConnect care coordination training for providers with the County of San Diego Behavioral Health Services in San Diego
8/25 – Presentation for Spanish-speaking beneficiaries at Neighborhood Clinic in Escondido
8/27 – Presentation at Community Congregational Church of Chula Vista in Chula Vista
Santa Clara County
8/27 – Resource table at the Happy Hollow Zoo's Senior Walkabout in San Jose
8/31 – Presentation for Covered California Certified Enrollers in Milpitas