Highlighted Outreach Events
Los Angeles County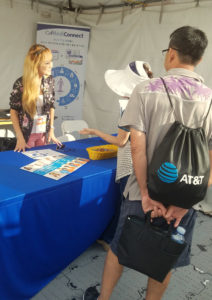 10/12 through 10/15 – Outreach coordinators answered questions and shared CCI information during the 44th annual Los Angeles Korean Festival in Los Angeles' Seoul International Park. Providers, community-based organization representatives, religious leaders, and beneficiaries stopped by the table to get more information.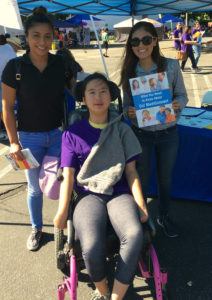 10/16 – Asian Pacific Islander Disability Collaborative held its first Walk N' Roll event, a walk-run disability awareness fair, in celebration of Disability Awareness Month. A state outreach coordinator had a booth with information about Cal MediConnect, care coordination, and beneficiary toolkits in English, Chinese, and Spanish.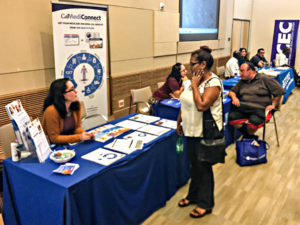 10/18 – The Personal Assistance Services Council (PASC) Open House was an opportunity for IHSS providers and Cal MediConnect health plans in LA County to directly reach to caregivers and beneficiaries. About 200 seniors attended and learned more about the Cal MediConnect program. Many eligible beneficiaries were interested in learning about Cal MediConnect plans.
Orange County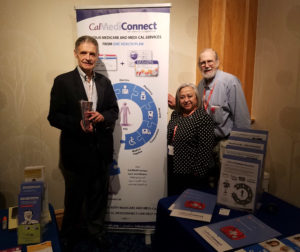 10/19 and 10/20 – About 250 physicians and members of the Network of Ethnic Physician Organizations (NEPO) attended the Building Healthy Communities Summit in Anaheim. State Outreach coordinators at Cal MediConnect's resource table were busy answering questions about the CCI and making one-on-one mini-presentations to several physicians who were interested in the program.  Those who stopped by the table learned about CCI's available health plans, enrollment, care coordination, authorizations, and continuity of care. They also had the opportunity to pick up physician and beneficiary toolkits.
San Bernardino County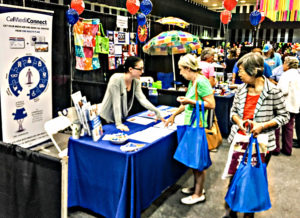 10/25 – Over 1,000 seniors attended the 13th annual Senior Health and Fitness Fair at Loma Linda University's Drayson Center. Attendees learned about Cal MediConnect as a health coverage option and were provided materials to share with others after learning more about the program. Caretakers also attended and were excited to have access to more resources.
San Diego County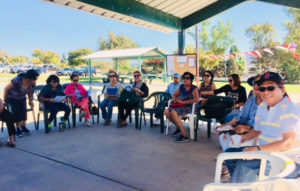 10/6 – Thirty seniors from the South Bay area took part in a CCI presentation in Tagalog at the South Bay Filipino-American Seniors Association monthly meeting in Bayside Park. For many seniors who attended, it was the first time they learned about Cal MediConnect. After the presentation, attendees learned more about plan options, benefits, eligibility, and access to out-of-network physicians. Attendees were also provided CCI resources in Tagalog.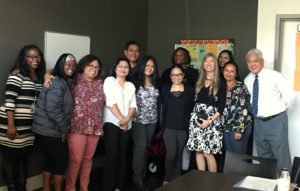 10/11 – State outreach staff gave a presentation about the CCI to service workers and residential care facility providers during the American Association of Service Workers regional meeting in San Diego. Along with information about available CCI plans, outreach staff provided updates on enrollment, continuity of care, health risk assessments, share of cost rules, and improper billing. Attendees also received copies of the physician toolkit and fact sheets.
Other Recent Outreach Events
Los Angeles County
10/3 – Resource table for beneficiaries and stakeholders at Los Angeles Faith in Action in Los Angeles
10/5 – Resource table for beneficiaries and caregivers at the Cerritos Senior Health and Wellness Fair in Cerritos
10/6 – Resource table at the Senior Health, Wellness and Information Fair at the Senior Center in Cerritos
10/14 – Resource table for beneficiaries and stakeholders at the 26th Annual Philippine Festival of Arts and Culture in Los Angeles
10/19 – Resource table for beneficiaries and caregivers at Jack Crippen Senior Center's 2017 Senior Resource Fair in Los Angeles
10/20 – Webinar for Los Angeles County providers
10/21 – Presentation at Korean Churches for Community Empowerment
10/27 – Health fair for beneficiaries at St. Barnabas Senior Services Center in Los Angeles
10/26 – Presentation at Salvation Army Lakeview Terrace Residence in Lakeview
10/28 – Resource table for seniors during a Filipino-Latino Health and Wellness Fair in Los Angeles
10/30 – Annual Health and Safety Fair at Baldwin Park Center in Baldwin Park
Orange County
10/4 – Resource table for seniors at Orange County Aging Services Collaborative, Alzheimer's Orange County in Irvine
10/20 – Resource table at the 5th annual Orange County Women's Health Summit in Santa Ana
10/25 – Resource table at a health fair hosted by Assemblymember Dr. Steven Choi and Alzheimer's of Orange County in Irvine
10/25 –Resource table about OneCare Connect during a town hall meeting at the Alzheimer's Orange County in Irvine
10/26 – Medicare marketplace event at the Community Civic Association of Laguna Woods Village in Laguna Woods
Riverside County
10/11 – Resource table at the 55 and Better Health Fair in Riverside
10/13 – Presentation for seniors at Recovery International Wellness City in Riverside
10/17 – Webinar for Inland Empire advocates
10/17 – Webinar for Inland Empire providers
10/28 – Health Fair at Mexican Consulate, Coachella Palm Desert in Coachella
San Bernardino County
10/5 – Presentation at Insure The Uninsured Project Inland Empire Workgroup in San Bernardino
10/5 – Presentation at IEHP's Community Partner Network meeting in San Bernardino
10/6 – Resource table at Fifth Street Senior Center Resource Fair in San Bernardino
10/17 – Webinar for providers in Riverside and San Bernardino counties
10/20 – Fontana Senior Center's Open Enrollment and Resource Fair in Fontana
San Diego County
10/3 – Presentation for nurses and caregivers at Paradise Valley Presbyterian Community Church in National City
10/3 – Presentation for caregivers at Villa Victoria Home Care in National City
10/4 – Presentation during the South Bay Seniors Providers Breakfast Meeting at Montero Seniors Residences in La Mesa
10/31 – Webinar for providers, IHSS outreach staff, and community advocates in San Diego
Santa Clara County
10/9 – Resource table for seniors, their families, and advocates at Indigenous Peoples Day in San Jose
10/12 – Resource table at Berryessa Community Center in San Jose
10/12 – Resource table at Santa Clara Senior Center in San Jose
10/12 – Resource table at Cypress Community Center in San Jose
10/17 – Resource table at Bill Wilson Center in Santa Clara
10/18 – Resource table at Campbell Senior Neighborhood Association in Campbell
10/18 – Resource table at Self Help for the Elderly in the Cupertino Community Center
10/19 – Webinar for Santa Clara County physicians
10/23 – Resource table at Senior Nutrition Program in San Jose
10/28 – Resource table for seniors at Maranatha Christian Center's Health Fair in San Jose