Los Angeles County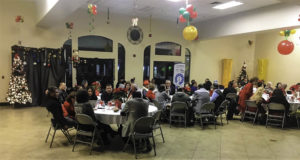 12/9 – State outreach staff provided a resource table for seniors attending the Julie McNeil Senior Center's annual Christmas Dance in Baldwin Park. During the event, participants asked questions about care coordination, learned about the benefits of joining a Cal MediConnect plan, and collected materials about the program.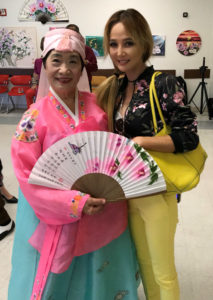 12/28 – A CCI outreach specialist staffed a resource table at Angelus Plaza's community New Year's event in Los Angeles. Attendees received information about CCI benefits, care coordination, and continuity of care.
Orange County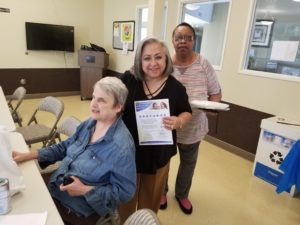 12/5 – Beneficiaries and staff at Mariposa Villa Senior Housing in Irvine received a CCI presentation. State outreach staff shared information about CCI health plan options, program benefits, care coordination, continuity of care, the authorized representative process, and the enrollment process. Participants also received  copies of the Beneficiary Toolkit and other materials in English, Spanish, Chinese, and Farsi.
San Mateo County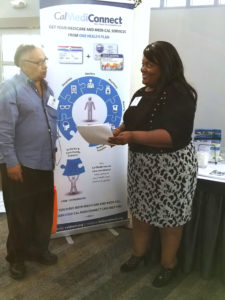 12/6 – The annual Senior Health Policy Forum in South San Francisco brought together over 400 advocates, stakeholders, politicians, and seniors from across San Mateo County. Those who stopped by the CCI resource booth asked questions about Cal MediConnect, collected copies of the Beneficiary Toolkit, and inquired about how to  share information with the beneficiaries in their communities.
Other Recent Outreach Events
Los Angeles County
12/6 – Presentation for beneficiaries at Vermont Senior Housing in Los Angeles
12/8 – Resource table at Homeless Care Days at MacArthur Park in Los Angeles
12/8 – Resource table for beneficiaries, advocates, and providers at Galleria Plaza in Los Angeles
12/11 – Resource table at Koreatown Plaza in Los Angeles
12/13 – Presentation at the Salvation Army Silvercrest Residence in Pasadena
12/14 – Webinar for Los Angeles County advocates
12/16 – Resource table at Venice Clinic's Health Fair in Inglewood.
12/28 – Resource table at the City of Baldwin Park's International Year-End celebration in Baldwin Park
Orange County
12/9 – Presentation for beneficiaries, advocates, and providers at Hacienda Golf Club in La Habra Heights
12/18 – Resource table at the Orange County Korean Health Education and Information Center's Health Fair for Women in Garden Grove
Riverside and San Bernardino Counties
12/6 – Presentation during Molina's Community Advisory Committee meeting at Molina Healthcare's regional office in San Bernardino.
12/9 – Resource table at Moreno Valley Health Center's Community Holiday Celebration in Moreno Valley
12/12 – Presentation during a Lunch & Learn at RI International in Indio
12/19 – Resource table at Community Health Center's Senior Holiday Event in Riverside
12/19 – Webinar for advocates in Riverside and San Bernardino counties
12/20 – Webinar for providers in Riverside and San Bernardino counties
12/27 – Resource table at Home Gardens Branch Library in Corona
San Diego County
12/28 – Presentation for providers and caregivers at Home Sweet Home RCF in San Diego
12/29 – Presentation to staff at St. Peter's Church in Del Mar
Santa Clara County
12/2 – Resource table at California Seniors Care in Campbell
12/11 – Resource table at Senior Nutrition Program in Cupertino
12/14 – Resource table at Senior Nutrition Program in San Jose
12/19 – Resource table at Senior Nutrition Program in Campbell
12/19 – Resource table at Self-Help for the Elderly in Cupertino
12/20 – Resource table at Dr. Martin Luther King Library in San Jose
12/22 – Resource table at Valley Palms Family Resource Center in San Jose
12/26 – Resource table at the Senior Nutrition Program in San Jose
12/26 – Presentation for seniors at Tully Community Branch Library in San Jose
12/26 – Resource table at Dr. Roberto Cruz Alum Rock Branch Library in San Jose
12/27 – Presentation for seniors at Campbell Adult Center in Campbell
12/27 – Resource table at India Community Center in Milpitas
12/27 – Resource table at Santa Clara Senior Center in Santa Clara
12/31 – Resource table at Foothill Covenant Church in Cupertino