Los Angeles County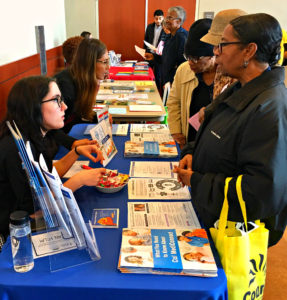 1/9 – State outreach staff provided a resource table for seniors at the City of Lawndale's first Senior Health Fair. Attendees received information about Cal MediConnect and their health care coverage options as dual-eligible beneficiaries.  The attendees were interested in better understanding their coverage options.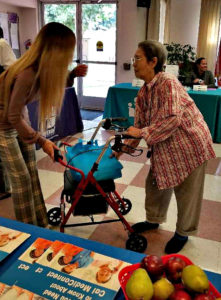 1/24 – Lawndale Senior Housing Co-op's health fair attendees learned about the CCI and Cal MediConnect from state outreach staff. Seniors were offered one-on-one information about Cal MediConnect in English, Korean, and Spanish throughout the day, and an outreach specialist delivered a presentation about program options, benefits, and enrollment.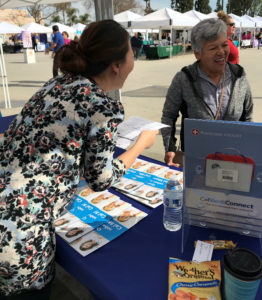 1/27 – State outreach staff educated community members about the CCI during a health fair at Lynwood City Park in Lynwood. Those who stopped by the table learned about the program's benefits, care coordination, eligibility requirements, and resources. Information was available in both English and Spanish.
Orange County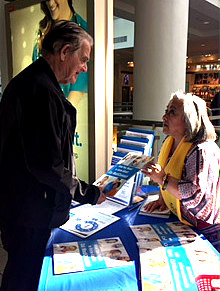 1/27 – Providers, beneficiaries, advocacy agencies, medical groups, key community leaders, and elected officials attended the Public Education and Health Fair at Main Street Mall in Santa Ana. Several presentations in Spanish and English were made on the CCI and OneCare Connect and the programs' options and benefits. A resource table was also provided for attendees to gather more CCI-related materials.
San Bernardino County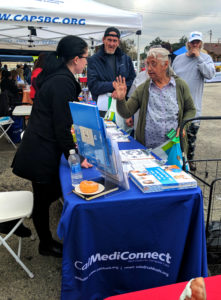 1/25 – State outreach staff hosted a resource table for individuals experiencing homelessness at a fair hosted by San Bernardino's Department of Behavioral Health in Fontana. Some attendees were already members and happy with Cal MediConnect services and others were interested in learning how to coordinate their Medicare and Medi-Cal benefits.
San Diego County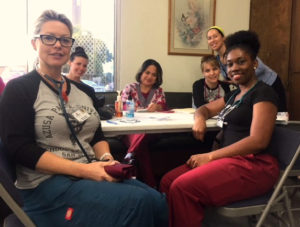 1/30 – Nursing students from Azusa Pacific University received a CCI presentation at Paradise Valley Presbyterian Community Church in San Diego. The presentation focused on topics and questions commonly asked by seniors, and students learned about eligibility, benefits, plan options, and transportation services. Attendees also received copies of fact sheets and Beneficiary Toolkits to share with the patients they serve.
Other Recent Outreach Events
Los Angeles County
1/6 – Presentation for Korean Seniors at Koreatown Plaza in Koreatown, Los Angeles
1/11 – Webinar for Los Angeles Advocates
1/12 – Webinar at Los Angeles Providers
1/20 – Networking with vendors during Women's March Resource Fair at Grand Park in Los Angeles
1/23 – Presentation at Rotary Club – Koreatown Garden Suites Hotel in Los Angeles
1/23 – Presentation at Eastside Progressive Meeting California Endowment in Los Angeles
1/31 – Health fair at Age-Friendly Los Angeles: Wicked Problems Practicum conference at USC Town and Gown in Los Angeles
Riverside and San Bernardino Counties
1/4 – Resource table at the Cathedral City Branch Library in Cathedral City
1/5 – Webinar for providers in San Bernardino and Riverside Counties
1/12 – Resource table at Home Gardens Branch Library in Corona
1/16 – Webinar for Inland Empire Advocates
1/16 – Resource table at the Louis Robidoux Branch Library in Jurupa Valley
1/17 – Resource table at Mead Valley Branch Library in Perris
1/18 – Resource table at FSA Senior Commodities Day at Norton Younglove Senior Center in Calimesa
1/24 – Resource table at Louis Robidoux Branch Library in Robidoux
1/25 – Resource table at Fontana Community Senior Center in Fontana
1/26 – Resource table at Home Gardens Branch Library in Corona
1/27 – Resource table at the Desert Ability Center's Annual DisAbility Sports Festival in Palm Desert
San Diego County
1/8 – Presentation at Aging Independence Services Council meeting in San Diego
1/9 – Presentation at St. Vincent De Paul Village in San Diego
1/10 – Presentation to the East County Seniors Service Providers meeting in El Cajon
1/18 – Presentation at Aging Independence Services, San Diego County in San Diego
1/19 – Presentation to residents of the Southern Highlands Senior Residences in National City
1/23 – Presentation for San Diego County HHSA's MSSP manager & staff in San Diego
1/24 – Webinar for seniors and advocates hosted by state outreach staff and San Diego County IHSS
1/30 – Presentation for Filipino seniors, caregivers, and providers at Paradise Valley Presbyterian Church in San Diego
Santa Clara County
1/2 – Resource table at Senior Nutrition Program in San Jose
1/3 – Resource table at Self Help for the Elderly Cupertino in Cupertino
1/4 – Resource table at Seven Trees Neighborhood Association in San Jose
1/5 – Resource table at Dr. Martin Luther King Library in San Jose
1/6 – Resource table at St. Joseph's of Cupertino in Cupertino
1/7 – Resource table at North Valley Baptist Church in Santa Clara
1/7 – Webinar for providers in Santa Clara County
1/8 – Webinar for Santa Clara Advocates
1/9 – Resource table at Guadulupe Neighborhood Association in San Jose
1/12 – Resource table at Senior Citizen Volunteers of Santa Clara County in San Jose
1/14 – Resource table at Venture Christian Church in Los Gatos
1/15 – Resource table at MLK, Jr. celebration in San Jose
1/17 – Resource table at Self Help for the Elderly Cupertino in Cupertino
1/17 – Resource table at Senior Nutrition Program in Cupertino
1/18 – Resource table at Senior Nutrition Program in San Jose
1/18 – Resource table at Senior Roundtable in San Jose
1/22 – Resource table at Faith Collaborative Christ the Good Shepard Church in San Jose
1/24 – Resource table at Los Gatos Library in Los Gatos
1/25 – Resource table at Senior Commission's Monthly Meeting – Protective Committee San Jose in San Jose
1/29 – Resource table at Vietnamese Family Support Group, Asian Pacific Resource Center in San Jose
1/30 – Resource table at Senior Nutrition Program Cupertino in Cupertino
1/31 – Resource table at Self Help for the Elderly Cupertino in Cupertino