Los Angeles County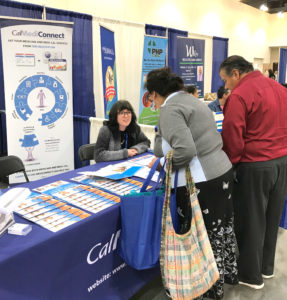 4/5 – CCI Outreach specialists shared information with social workers, agency representatives, and community advocates at the L.A. County Older Adults Summit at the Pasadena Convention Center.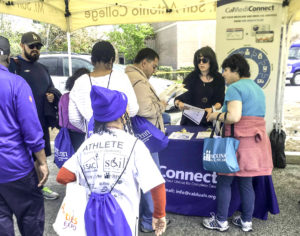 4/7 – State outreach staff were present at the Disability Athletics Fair in Walnut and provided program materials to attendees.
Orange County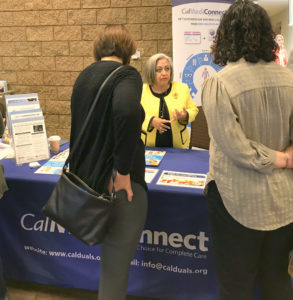 4/12 – State outreach specialists delivered presentations and staffed a resource table at the 4th annual Orange County Leadership Forum on Aging in Garden Grove, organized by Alzheimer's Orange County.
San Bernardino County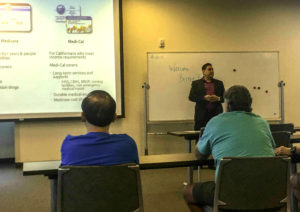 4/12 – A CCI outreach specialist presented to members of the American Lung Association's Better Breathers Club at Loma Linda University Medical Center.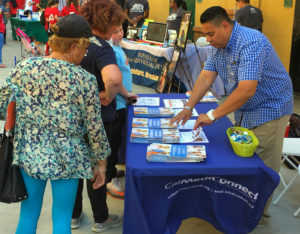 4/21 – Outreach specialists shared information with beneficiaries, caregivers, and families during the Disability Awareness Night in San Bernardino.
San Diego County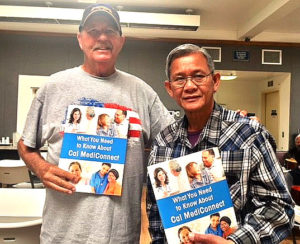 4/26 – An outreach coordinator presented to English- and Tagalog-speaking seniors at Mira Mesa Senior Center.
Other Recent Outreach Events
Los Angeles County
4/4 – Resource table at Harbor Community Clinic's Women's Health Fair in Harbor City
4/5 – Resource table at 2nd Annual LA County Older Adults Summit in Pasadena
4/7 – Resource table at the African American Women's Conferencein Pasadena
4/8 – Resource table at the Help Group's 8th Annual Resource Fair in Van Nuys
4/10 – Presentation at PATH Ventures Staff Development meeting in Long Beach
4/11 – Resource table at the Homeless Mobile Clinic in Los Angeles
4/12 – Resource table at Rio Vista Village Health and Wellness Fair in Los Angeles
4/12 – Webinar for Los Angeles County advocates
4/13 – Webinar for Los Angeles County providers
4/14 – Resource table at South El Monte Senior Center's health fair in El Monte
4/16 – Resource table at Homeless Mobile Clinic in Los Angeles
4/20 – Resource table at the 8th Annual Brain & Health Fair in Los Angeles
4/20 – Presentation at Welfare to Work Program with Los Angeles County Office of Education GROW Division at East Los Angeles College in Monterey Park
4/21 – Resource table at Dorsey High's Health & Wellness Fair in Los Angeles
4/21 – Resource table at YMCA's Annual Healthy Kids Day event in Los Angeles
4/22 – Resource table at Torrance Monthly Community Health and Wellness Fair in Los Angeles
4/23 – Resource table at the USC Davis School of Gerontology's Aging 2.0 in Los Angeles
4/23 – Resource table at Homeless Mobile Clinic – Volunteers of America Pathways in Los Angeles
4/24 – Resource table at a health fair for the homeless at LA Central Library's in Los Angeles
4/25 – Resource table at Harbor Occupational Center Open House and Health Fair in Harbor City
4/25 – Resource table at Los Angeles Valley College Community Health Fair in Valley Glen
4/28 to 4/29 – Resource table at the 7th  annual Wheelchair Sports Festival in Santa Clarita
4/28 – Health fair at the Pasadena Conference on Aging in Pasadena
4/28 – Resource table at the Palomares Academy of Health Sciences' Health Fair in Pomona
4/29 – Resource table at the Cortez Park Informational Fair and Festival in West Covina
Orange County
4/14 – Resource table at Magnolia Academy's Wellness and Resource Fair in Santa Ana
4/15 – Resource table at TypeOne Nation Senior Health Summit in Garden Grove
4/22 – Resource table at the 4th Annual Second Baptist Church Community Health Fair in Santa Ana
Inland Empire
4/18 – Webinar for Inland Empire advocates
4/11 – Webinar for Inland Empire providers
Riverside County
4/17 – Resource table at Parkview Community Hospital's Spring Health Fair in Riverside
4/19 – Resource table at the Calimesa Senior Center's Monthly Commodities Day in Calimesa
4/26 – Presentation during Jurupa Valley Family Resource Network in Riverside
4/28 – Resource table at Superhero 5K & Healthy Living Extravanagza Health Fair in Jurupa Valley
San Bernardino County
4/10 – Resource table at Kindergarten Readiness Resource Fair in Fontana
4/21 – Resource table at San Bernardino Community Action Partnership resource fair in Fontana
4/21 – Resource table at Families with Disabilities health fair in San Bernardino
4/24 – Resource table at San Bernardino Valley College's Student Spring Health Fair in San Bernardino
4/27 – Resource table at 2018 Senior Health Expo in Redlands
San Diego County
4/3 – Presentation at San Diego Old Town Community Church in San Diego
4/6 – Presentation at 55+ Medicare-Medi-Cal Informational Event for Seniors at the Escondido Education Center in San Diego
4/23 – Presentation at St. Joe's Village Medical Center in San Diego
4/24 – Webinar with St. Paul's PACE representatives
4/26 – Presentation for Dr. Tung Lai and staff in San Diego
4/26 – Presentation at Keepsake Companion Home Care in San Diego
Santa Clara County
4/1 – Resource table at Maranatha Christian Center in San Jose
4/2 – Resource table at Faith Collaborative in San Jose
4/2 – Resource table at Senior Nutrition Program in San Jose
4/17 – Resource table at Senior Nutrition Program in San Jose
4/19 – Resource table at Herman Health Care Center in San Jose
4/19 – Resource table at California Seniors Care in Campbell
4/20 – Resource table at Senior Nutrition Program in Campbell
4/21 – Resource table at Ethiopian Health Fair in San Jose
4/23 – Resource table at Faith Collaborative in San Jose
4/23 – Resource table at Santa Clara Senior Association County Government Center in San Jose
4/26 – Resource table at Elder Abuse Task Force in San Jose
4/27 – Resource table at Valley Palms Senior Association in San Jose