Los Angeles County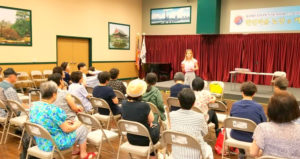 7/11 – An outreach specialist presented the Cal MediConnect program to a group of Korean-speaking seniors at Koreatown Senior Center in Los Angeles.
Orange County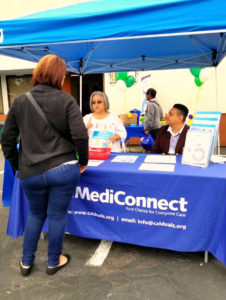 7/1 – State outreach specialists hosted a Cal MediConnect informational booth during the OneCare Connect Educational, Resource, and Health Fair in Santa Ana.
Riverside County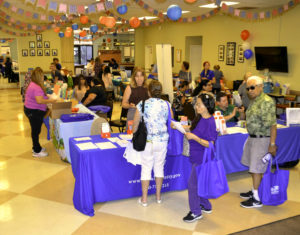 7/27 – Over 90 seniors attended the First Annual Inland Empire Cal MediConnect Senior Resource & Health Fair at the Corona Senior Center in Corona.
San Diego County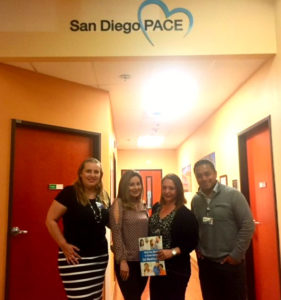 7/3 – San Diego PACE program staff learned more about the CCI during a presentation at their facility in San Ysidro.
Other Recent Outreach Events
Los Angeles County
7/3 – Resource table at Baldwin Parks Senior's Center Independence Day Celebration Luncheon in Los Angeles
7/20 – Resource table at a health fair hosted by Congresswoman Nancy Barragan in Carson
7/22 – Resource table at LA Harbor College community fair in Harbor City
7/24 – Resource table at "The Source" at LA Central Library in Los Angeles
7/28 – Resource table at the Teri G. Muse Family Service Center's Back to School Informational Fair in Baldwin Park
7/28 – Resource table at Fullerton Community Center's Health Fair in Fullerton
Riverside and San Bernardino Counties
7/18 – Presentation at Molina Healthcare's Member Meeting in San Bernardino
7/20 – Resource table at Adelanto School District's Health and Resource Fair in Adelanto
7/24 – Resource table at the Norco Senior Center in Norco
7/25 – Resource table at Cabazon Family Resource and Senior Center's Community Health Fair in Cabazon
San Diego County
7/3 – Presentation at Villa Victoria Residential Care Home in Paradise Valley
7/5 – Presentation for pharmacists at Walgreens Pharmacy in San Diego
7/9 – Presentation for Adult Services Advisory Council committee members in San Diego
7/10 – Presentation for staff of The Alpha Project in San Diego
7/12 – Presentation at Healthy San Diego Behavioral & Mental Health Meeting in San Diego
7/16 – Presentation at Home Care Center for the Elderly in Paradise Hills
7/17 – Presentation to attendees of the AARP Community Action Meeting in San Diego
7/24 – Webinar for San Diego providers and advocates
7/25 – Resource table during the North County Caregivers Health Fair, in San Diego
7/26 – Presentation for community health workers at the Islamic Center of San Diego in San Diego
7/31 – Presentation to attendees of the SanDi-Can monthly meeting in San Diego
Santa Clara County
7/1 – Resource table at Campbell Community Center in Campbell
7/2 – Resource table at Cupertino Senior Center in Cupertino
7/3 – Resource table at The Terraces of Los Gatos in Los Gatos
7/5 – Resource table at Barbara Lee Senior Center in Milpitas
7/5 – Resource table at Gilroy Senior Center in Gilroy
7/9 – Resource table at Homecare California in Santa Clara
7/9 – Presentation at the Faith Colloborative in San Jose
7/9 – Resource table at the Santa Clara County Community Senior volunteer group in San Jose
7/11 – Resource table at Pancake Breakfast for Seniors in Campbell
7/16 – Resource table at Iola Williams Senior Neighborhood Association Health Fair at Seven Trees Community Center in San Jose
7/17 – Resource table at Grace Adult Day Health Care at Santa Clara in Santa Clara
7/20 – Resource table at Golden Castle Adult Day Health Center in Palo Alto