Los Angeles County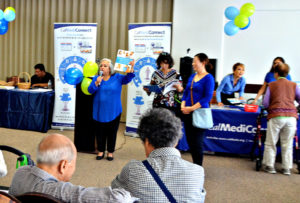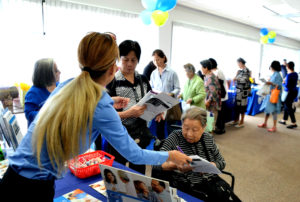 8/29 – Beneficiaries and their families and caregivers attended the Fourth Annual CCI Health Fair at Angelus Plaza Senior Activity Center in Los Angeles.
San Bernardino County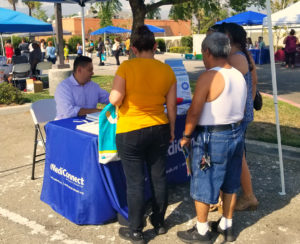 8/16 – Caregivers and beneficiaries learned about Cal MediConnect from state outreach staff during the Inland Behavioral & Health Center's Community Festival in San Bernardino.
San Diego County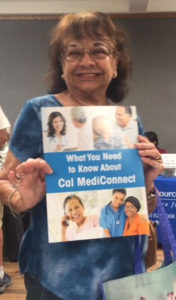 8/17 – State outreach staff spoke with beneficiaries and shared CCI materials while hosting a resource table at the Mira Mesa Senior Center Resource Fair in San Diego.
Santa Clara County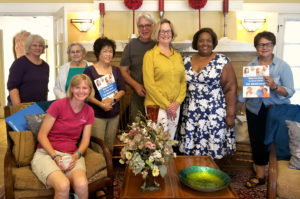 8/15 – A state outreach specialist shared CCI information in a presentation to the monthly caregivers' support group at Live Oak Adult Day Center in San Jose.
Other Recent Outreach Events
Los Angeles County
8/4 – Resource table at Mothers In Action Community Health Fair in Los Angeles
8/9 – Resource table at Montebello Senior Center's Information Fair in Montebello
8/10 – Resource fair at 16th Annual Cerritos Community Health Fair in Cerritos
8/11 – Resource table at the City of Compton Community Back-to-School Health Fair in Compton
8/15 – Presentation to caregivers and beneficiaries during the Korean American Federation's Korean Independence Day celebration in Los Angeles
8/16 – Resource table for beneficiaries and stakeholders at the Prevention, Treatment, and Control of Cancer in the Community conference in Los Angeles
8/18 – Resource table at the Long Beach Community Health Fair in Long Beach
8/21 – Presentation for Health Care Ministry at Holy Name of Mary Parish in San Dimas
8/24 – Resource table for beneficiaries, homeless outreach staff, housing case managers, and advocates at People Assisting the Homeless in Paramount
8/25 – Resource table at LA's FAME 2nd Chance Community Health Fair in Los Angeles
Orange County
8/18 – Resource table at Super Senior Saturday Resource Fair in Buena Park
8/21 – OneCare Connect webinar for providers and medical office staff
Riverside and San Bernardino Counties
8/1 – Resource table at the Mead Valley Community Fair in Mead Valley
8/9 – Presentation for beneficiaries at Victoria Manor Apartments in Riverside
8/15 – Webinar for Inland Empire advocates
8/22 – Resource table at the Healthy Living in Barstow Community Day celebration in Barstow
8/23 – Webinar for Riverside and San Bernardino providers.
8/29 – Resource table at the Older Adults Resource & Health Fair at Fern Lodge in Redlands
San Diego County
8/3 – Resource table for beneficiaries, providers, and caregivers at the Kalipayan Cultural Event in Chula Vista
8/4 – Resource table during the Union of Pan Asian Communities and Elder Multicultural Access Support & Services' health fair in San Diego
8/7 – Presentation for community health navigators at 2-1-1 San Diego in San Diego
8/8 – Presentation for HICAP health care workers in San Diego
8/11: Presentation at East County Seniors Providers Meeting in El Cajon
8/15 – Presentation for beneficiaries at Southern Highland Residences in National City
8/15 – Presentation for caregivers and beneficiaries at Villa Victoria Residential Care Facility in Paradise Hills
8/15 – Presentation for caregivers and beneficiaries at Home Sweet Home Care Residential Care Facility in Paradise Hills
8/16 – Presentation for health care workers and case managers at 2-1-1 San Diego in San Diego
8/20 – Presentation for case management staff of Samahan Health Centers in San Diego
8/22 – Webinar for San Diego advocates, caregivers, and providers
8/29 – Presentation at All Things are Possible Family Services in National City
8/30 – Presentation for beneficiaries and caregivers at the monthly Grandparents Connection meeting in San Diego
Santa Clara County
8/5 – Resource table at Maranatha Church in San Jose
8/8 – Resource table at San Jose Library's Senior Day in San Jose
8/8 – Resource table at Alma Senior Neighborhood Association in San Jose
8/9 – Resource table at McLaughlin Senior Association in San Jose
8/17 – Resource table at India Community Center in Milpitas
8/29 – Presentation for case management staff at Santa Clara Valley Health and Hospital System in San Jose