The Centers for Medicare & Medicaid Services (CMS) is promoting flu vaccinations through its #FightFlu campaign on December 4, 2019. We're inviting CCI stakeholders to help share the message that getting an annual flu vaccination is important for beneficiaries and their families, care providers, and community members! CalDuals.org has numerous free resources that your organization can use to encourage flu prevention with dual eligibles and related populations. And because California is linguistically diverse, many of these free resources are available in different languages, including:
Arabic
Armenian
Cambodian
Chinese (simplified)
Farsi
Hmong
Korean
Polish
Russian
Spanish
Tagalog
Vietnamese
In addition to these great resources, CMS has provided the below draft tweets, Facebook posts, and client-facing emails for you to customize. CMS hopes that your organization will help storm social media and email listservs to promote flu vaccines on or around December 4th using the hashtag #FightFlu.
Draft Tweets
Draft Facebook Posts
Upload a copy of a translated postcard (example below: Hmong) to your clinic's Facebook page and include #FightFlu #CalMediConnect
Get free translated materials promoting the importance of an annual flu vaccination by visiting http://calduals.org/learn-more-resources/flu-vaccine-campaign/ #FightFlu #CalMediConnect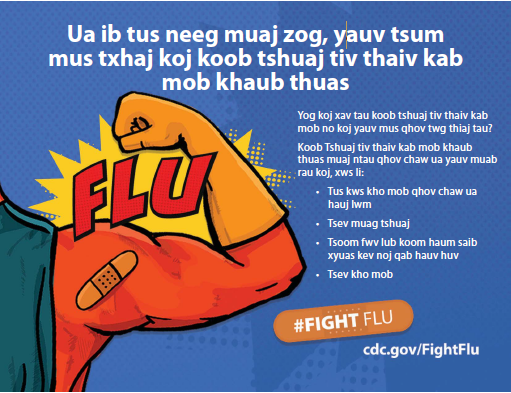 Again, you can access all the materials by visiting our Flu Vaccine Campaign page.
If you and/or your organization are willing to join CMS in any emails or social media posts, CMS wants to note your participation. Please email Anna.Williams@cms.hhs.gov to let CMS know if you can participate in any way.