Los Angeles County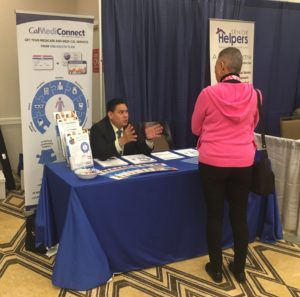 11/3 – Over 2,000 people attended the 17th annual Women's Health and Beauty Expo in Pasadena. Beneficiaries, caregivers, and relatives of dual-eligible beneficiaries learned more about Cal MediConnect's health coverage options. Attendees expressed concern over the difficulty of navigating the health care system alone and were interested in learning about care coordination. Many were already familiar with the five LA county plans which offer Cal MediConnect and wanted to learn about their potential coverage options.
Riverside County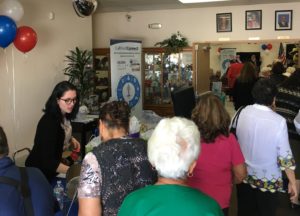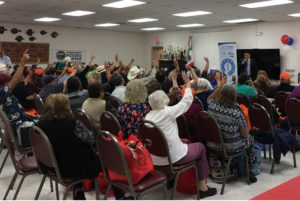 11/9 – Over 100 attendees and 22 vendors attended the CCI Stakeholder Resource Fair hosted at the Coachella Senior Center in Coachella. The program was primarily delivered in Spanish and educated dual-eligible beneficiaries about Cal MediConnect, introduced them to additional community resources, and provided free health screenings.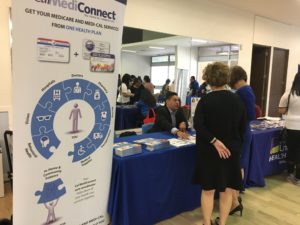 11/15 – An audience of nearly 100 professional and family caregivers attended the Annual Caregiver Appreciation and Resource Fair in Palm Desert. Many caregivers had dual-eligible clients or relatives in their care. Attendees expressed interest in Cal MediConnect and how it could help them manage the complex care that their clients required.
San Bernardino County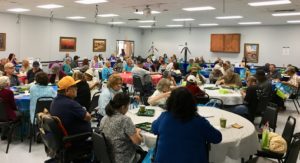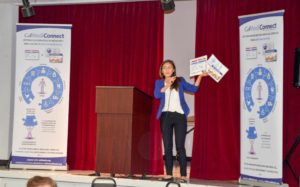 11/2 – State outreach staff hosted a CCI health fair at the Fifth Street Senior Center in San Bernardino. More than 70 seniors took part in presentations about Cal MediConnect, delivered in both English and Spanish, and actively engaged with the presenters, asking questions and learning more about the program. Seniors also received valuable information and resources from local nonprofits, county agencies, and health care providers.
San Diego County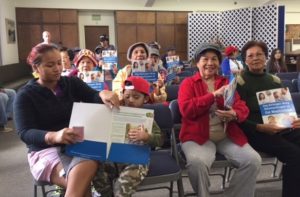 11/7 – An outreach coordinator delivered a CCI presentation in Tagalog during a food distribution event at the Paradise Valley Community Senior Center. Seniors, caregivers, faith-based advocates, and providers attended the event, and the outreach coordinator fielded questions about eligibility and the benefits available through the plan.
Other Recent Outreach Events
Los Angeles County
11/1 – 11/4 – Resource table for stakeholders at the 10th annual Lighting the Community Summit in La Habra
11/4 – Resource table at the Disability and Aging Resource Fair in El Monte
11/16 – Webinar for Los Angeles County Advocates
11/24 – Care1st Community Health Fair in Buena Park
Orange County
11/2 – Resource table for seniors at the Navigating Resources for Seniors in Orange County health fair in La Habra
11/4 – Resource table for seniors and caregivers at the Golden Future 50+ Senior Expo in Anaheim
11/30 – Resource table for seniors at the Senior Services Summit at Bethel Community Church in Irvine
Riverside County
11/8 – Resource table at Caregive Appreciation and Resource Fair at Moreno Valley Conference Center in Moreno Valley
11/14 – Webinar for Inland Empire Advocates
11/18 – Resource table at Eastvale Community Park's Health Fair in Eastvale
11/28 – Resource table at Norco Senior Center in Norco
11/30 – Presentation to clinic outreach staff at Magnolia Health Center in Riverside
San Diego County
11/2 – Presentation to the San Diego Molina Healthcare Case Work Team in San Diego
11/6 – Presentation at Dr. Tung Lai's office in Mira Mesa
11/7 – Presentation to beneficiaries and caregivers at Villa Victoria Residential Care Facility in National City
11/7 – Presentation to beneficiaries and caregivers at Jeremy Home Care's Residential Care Facility in National City
11/10 – Presentation for Elder Help in San Diego
11/10 – Webinar for plan representatives and community advocates in San Diego
11/13 – Presentation for San Diego Supervisor Greg Cox & staff at the county administrative office in San Diego
11/13 – Presentation for community advocates and San Diego County HHSA staff at Aging & Independence Service Advisory Council at San Diego HHSA office in San Diego
11/17 – Presentation at Center for Home Care Residential Care Facility in National City
11/21 – Presentation to seniors at the AARP Community Volunteers lunch meeting in San Diego
11/29 – Presentation to volunteers, caregivers, providers, and beneficiaries at the Helping Hands program in Del Mar
11/30 – Presentation Southern Highland Senior Residences at National City in National City
Santa Clara County
11/3 – Resource table at San Jose Diocese's Catholic Conference in San Jose
11/7 – Resource table at the Vietnamese Family Group in San Jose
11/8 – Resource table for seniors at Santee and McLaughlin in San Jose
11/8 – Resource table at County of Santa Clara's Senior Care Commission in San Jose
11/9 – Presentation to seniors at the San Jose Public Life Summit in San Jose
11/10 – Resource table at Elder Abuse Task Force Veterans Meeting in San Jose
11/14 – Resource table at Self Help for the Elderly's Senior Nutrition Program in Cupertino
11/15 – Resource table at the Milpitas Library in Milpitas
11/16 – Resource table at the Almaden Branch Library in San Jose
11/16 – Resource table at the Roosevelt Community Center in San Jose
11/21 – Resource table at the Union Church of Cupertino in Cupertino