Los Angeles County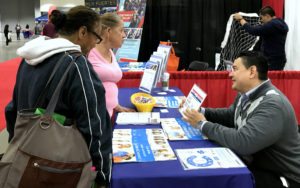 3/11 – State outreach specialists distributed information at Telemundo 52's Los Angeles Health Expo, "La Feria de Salud" held at the Los Angeles Convention Center. Beneficiaries, caregivers, and health care professionals stopped by the table for information and to ask questions.
Orange County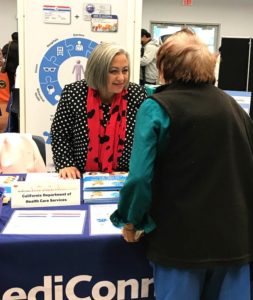 3/21 – State outreach staff shared information with beneficiaries during Costa Mesa Senior Center's Knowledge and Health Fair Expo in Costa Mesa. Attendees received information about OneCare Connect including benefits, the preauthorization process, continuity of care, and enrollment.
Riverside County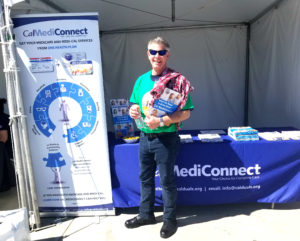 3/23 to 3/25 – State outreach specialists connected with seniors, caregivers, and providers at the California CareForce Coachella Valley Clinic in Indio. Attendees learned about the benefits of Cal MediConnect and other aspects of the program.
San Bernardino County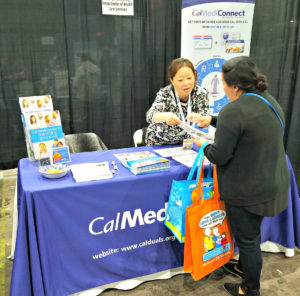 3/24 – Seniors and caregivers attending the Inland Empire Disabilities Expo in San Bernardino learned about Cal MediConnect from state outreach specialists. Attendees learned about the different options available to them and those they care for and how the program can help dual eligibles in California.
Santa Clara County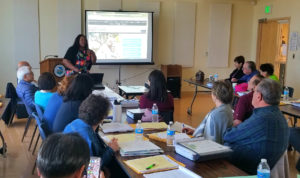 3/29 –A state outreach specialist trained HICAP counselors during their quarterly training in Santa Clara. The counselors will help beneficiaries better understand Cal MediConnect and other health care programs.
Other Recent Outreach Events
Los Angeles County
3/1 – Global Business in Aging Conference's Health Fair at USC School of Social Work in Los Angeles
3/2 – Aging into the Future Conference Health Fair at Biltmore Hotel in Los Angeles
3/6 – Presentation for a parent and teacher's group at Holy Name of Mary School in San Dimas
3/8 – Webinar for Los Angeles advocates
3/7 – Health fair at ¡Adelante! Action for Health Equity in the Latinx Community Conference at CSU Domingez Hills in Dominguez Hills
3/9 – Health fair at Everyone In – Fighting Homelessness Campaign Kick-off Event at Los Feliz in Los Angeles
3/9 – Presentation for caregivers at Kardia Church in El Segundo
3/9 – Presentation for seniors at St. Barnabas Hollywood Senior Center in Los Angeles
3/9 – Webinar for Los Angeles County administrators and physicians
3/11 – Resource Fair at Telemundo 52 Los Angeles Health and Expo in Los Angeles
3/15 – Health fair at Low Vision Symposium event for seniors and Latinos with the Braille Institute.March 17: Community resource fair with Congresswoman Karen Bass at Hawkins High School in Los Angeles
3/15 – Presentation for seniors at the South El Monte Senior Center in El Monte
3/15 – Provider office visits at Arroyo Vista Family Health Center in Los Angeles
3/16 – Resource table during the Many Faces of Dementia Conference at the USC School of Gerontology in Los Angeles
3/17 – Resource table for seniors and caregivers at The Wellness Center in Los Angeles
3/17 – Provider networking during the Wellness Center Anniversary event in Los Angeles
3/20 – Presentation for seniors at Joslyn Adult Center in Burbank
3/20 – "Is Dementia in My Genes?" health seminar for seniors at Redondo Beach Library in Los Angeles
3/20 – Presentation to seniors at Joslyn Adult Center in Burbank
3/23 – Celebration of the Affordable Care Act at St. John's Well Child and Family Center in Compton
3/23 to 24 – 10th annual Women's Conference at the University of Southern California in Los Angeles
3/26 – Health fair during the Immigration and Globalization Conference at the University of Southern California in Los Angeles
3/27 – Resource table at LA Central Library in Los Angeles
3/29 – Resource table at the City of Carson Senior Health Fair in Carson
3/31 – Presentation for seniors and resource table at the Long Beach Golden Future 50+ Expo in Long Beach
3/31 – Resource table for seniors at the Health and Wellness Fair at East Los Angeles College in Monterey Park
Orange County
3/14 – Presentation for parish administrator and staff at St. Anne's Catholic Church in Santa Ana
3/21 – Resource table for seniors at Knowledge and Health Expo Fair at Costa Mesa Senior Center
3/23 – Resource table during an Addressing Homelessness Summit in Fullerton
3/23 – Homeless Summit for providers, community advocates, and religious leaders in Fullerton
3/27 – OneCare Connect webinar for advocates, caregivers, and beneficiaries
3/28 – OneCare Connect webinar for providers and medical staff
Inland Empire
3/6 – Presentation during Inland Empire Coverage and Health Initiative at San Bernardino County Medical Society in Redlands
3/13 – Webinar for Inland Empire advocates
3/21 – Webinar for providers and provider office staff
Riverside County
3/3 – Resource table at IE Autism Society's Life After High School event in Murrieta
3/10 – Resource table at 100 Mile Club Run4Kids in Corona
3/14 – Presentation for seniors at the Corona Senior Center in Corona.
3/20 – Resource table at Perris Valley Community Resource Fair in Perris
San Bernardino County
3/2 – Presentation for seniors at the Fontana Community Senior Center in Fontana
3/10 – Resource table at the John Nobles Community Resource Fair in Indio
3/19 – Resource table at Base Line Plaza Senior Housing's Health and Resource Fair in San Bernardino
3/20 – Presentation at Victor Valley Community Service Council Luncheon presentation in Victorville
3/24 – Resource table during a health fair at California Cares in San Bernardino
3/30 – Resource table during American Lung Association Lung Force Expo at Loma Linda University Health Center in Loma Linda
San Diego County
3/8 – Presentation at Healthy San Diego Behavioral Mental Health Group's monthly meeting in San Diego.
3/6 – Presentation at Southern Caregiver Resource Center in San Diego
3/7 – Presentation at Home Sweet Home Residential Care Facility Paradise Hills in San Diego
3/7 – Presentation for volunteers of the San Diego Long-Term Care Ombudsman Program in San Diego
3/7 – Presentation at Grove View Residential Care Paradise Hills in San Diego
3/8 – Presentation at the Healthy San Diego Behavioral Mental Health meeting in San Diego
3/19 – Presentation for residents and caregivers at Samahan Health Center in National City
3/27 – Presentation at CJ Residential Care Facility in San Diego
3/27 – Presentation at Villa Victoria Res Care Home in San Diego
3/27 – Presentation at Healthy San Diego in National City
Santa Clara County
2/2 – Resource table at the Senior Nutrition Program in Milpitas
2/8 – Resource table at McLaughlin Corridor Senior Neighborhood Association in San Jose
2/8 – Resource table during the Tzu Chi members' meeting in San Jose
2/9 – Resource table at Santa Clara Senior Center Health and Wellness Orientation in San Jose
2/9 – Resource table at the Health and Wellness Care Center in San Jose
2/10 – Resource table at the Bay Area Health and Wellness Center in San Jose
2/12 – Resource table at the Asian Pacific Family Resource Center in San Jose
2/13 – Presentation for attendees of the care mapping workshop at Age Friendly San Jose in San Jose
2/14 – Resource table at the Milpitas Library in Milpitas
2/15 – Resource table at the East San Jose Library in San Jose
2/15 – Resource table at the Santa Clara Senior Center in Santa Clara
2/16 – Resource table at the Posso Senior Citizen Center in San Jose
2/19 – Resource table at Iola Williams Senior Neighborhood Association in San Jose
2/19 – Resource table at the Winter Faith Collaborative in San Jose
2/20 – Resource table at the Senior Nutrition Program in Cupertino
2/21 – Resource table at the Winter Faith Collaborative in San Jose
2/26 – Presentation for Vietnamese family support group members at Asian Pacific Family Resource Center in San Jose
2/27 – Resource table at the Senior Nutrition Program at Paseos Center Community Room in Cupertino
2/28 – Resource table at the Paseos Center Community Room in San Jose