Los Angeles County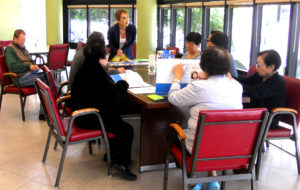 5/17 – A state outreach specialist engages with Korean-speaking residents of Steel Plaza Apartments in downtown Los Angeles.
Orange County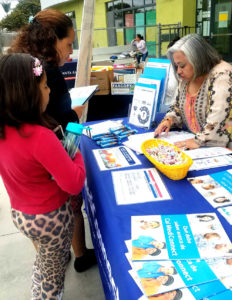 5/19 – State outreach staff share information with beneficiaries and caregivers at the Magnolia Science Center in Santa Ana.
Riverside County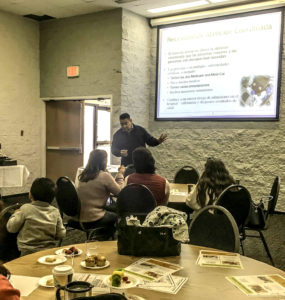 5/3 – Members of the Latino Senior Group at Parkview Hospital Medical Center in Riverside learn about Cal MediConnect.
San Diego County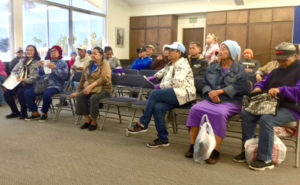 5/1 – Faith-based providers, beneficiaries, and caregivers learn about the CCI during a presentation at Paradise Valley Seventh Day Adventist Community Church in National City.
Santa Clara County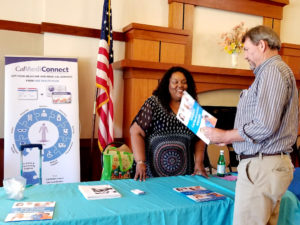 5/22 – A state outreach specialist staffs a resource table during the annual Mountain View Senior Resource Fair.
Other Recent Outreach Events
Los Angeles County
5/4 – Resource table at City of Redondo Beach Senior Health Fair
5/6 – Resource table at LA Sarang Church in Los Angeles
5/7 – Resource table at the Homeless Mobile Clinic Health Fair in South Los Angeles
5/9 – Webinar for Los Angeles Providers
5/10 – Webinar for Los Angeles Advocates
5/10 – Resource table at the 21st Annual Latino Conference for Behavioral Health Clinicians in San Gabriel
5/10 – Presentation to beneficiaries at PATH NoHo Senior Housing in Los Angeles
5/12 – Resource table at Golden Years Senior Expo in Pasadena
5/12 – Resource table at City of Torrance's 19th Annual Health and Resource Fair in Torrance
5/14 – Presentation to the City of Carson Seniors Advisory Committee in Carson
5/18 – Resource table at the City of Manhattan Beach Older Adults Health Summit in Manhattan Beach
5/18 – Resource table at the Re-entry Ministry Summit for Homeless and Incarcerated individuals re-entering the community in Los Angeles
5/19 – Resource table at ONE Generation Seniors Symposium in Reseda
5/19 – Resource table at the LA Annual Women's Expo Summit in Los Angeles
5/23 – Resource table at the San Pedro Community Health Fair in San Pedro
5/26 – Resource table at the Each Mind Matters Wellness Fair in Los Angeles
5/30 – Resource table at Women's Health Fair in San Pedro
Orange County
5/9 – Resource table at the Orange County Fair in Costa Mesa
5/22 – Webinar for Orange County Advocates, Beneficiaries & Caregivers
5/22 – Webinar for Orange County Providers and Medical Staff
Inland Empire
5/11 – Webinar for Riverside and San Bernardino County Providers
5/15 – Webinar for Riverside and San Bernardino Advocates
Riverside County
5/4 – Resource table at the Hemet USD Health Fair in Hemet
5/14 – Resource table at the 3rd Annual Senior Health, Wellness and Fitness Fair in Menifee
5/16 – Presentation at Caregiver Support Group at Riverside County Office on Aging in Riverside
5/17 – Resource table at the Senior Conference for Older Adult Services and Resource Fair in Riverside
5/19 – Resource table at University Community Health Center's Community Health Systems Family Fun Fest in Riverside
San Bernardino County
5/19 – Resource table at 6th Annual Rim Communities Health & Resource Fair in Crestline
5/21 – Resource table at the Adult Protective Services Multidisciplinary Team Conference in Rancho Cucamonga
5/25 – Resource table at Community Health and Resource Fair at Villa Pacifica Senior Apartments in Rancho Cucamonga
San Diego County
5/2 – Presentation at the San Diego CCI Advisory Committee Meeting in San Diego
5/10 – Presentation at Healthy San Diego Behavioral Mental Health meeting in San Diego
5/11 – Presentation at San Diego HICAP in San Diego
5/11 – Presentation at IAMBK Green Meeting in San Diego
5/11 – Presentation at St. Paul's PACE in San Diego
5/12 – Presentation for caregivers at the Asian Heritage Celebration on Caregiving in Escondido
5/16 – Presentation at Southern Highlands Senior Residences in National City
5/16 – Presentation at Samahan Health Centers in National City
5/23 – Presentation at Union of Domestic Workers UDW in National City
5/23 – Presentation at Samahan Health Centers in National City
5/23 – Presentation for Tagalog-speaking beneficiaries and caregivers at Villa Victoria Residential Care Facility in Paradise Hills
5/24 – Webinar for San Diego County Beneficiaries, Advocates, and Providers
5/25 – Presentation to In-Home Supportive Services (IHSS) staff in San Diego
5/30 – Presentation at Care Center Home for Elderly in Paradise Hills
5/30 – Presentation at Gover View Board & Care in Paradise Hills
Santa Clara County
5/2 – Resource table at Yu-Ai Kai Japanese American Community Senior Service in San Jose
5/4 – Resource table at Heart of the Valley Services for Seniors, Inc. in Santa Clara
5/4 – Resource table at Carlton Senior Living in San Jose
5/7 – Resource table at Tzu Chi in Campbell
5/8 – Resource table at Campbell Senior Center in Campbell
5/9 – Resource table at Cupertino Library's Senior Day in Cupertino
5/11 – Presentation at McLaughlin Association Seniors Committee in San Jose
5/15 – Resource table at Christ the Good Shepherd Church's Faith Collaborative in San Jose
5/16 – Resource table at Asian Pacific Family Resource Center in San Jose
5/17 – Resource table at A Women's Center in Campbell
5/17 – Webinar for Santa Clara County Providers
5/18 – Resource table at Valley Village Retirement Community in San Jose